WATER FOR INJECTIONS (WFI) GENERATION SYSTEMS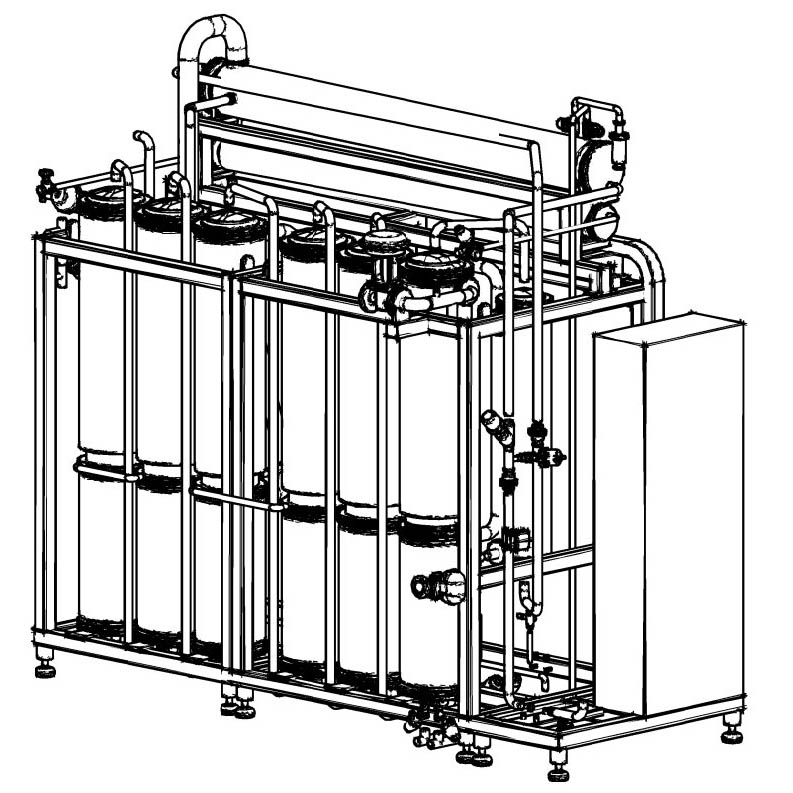 Water for injection (WFI) may be obtained nowadays by one of the following ways:
thermal distillation
vapor compression distillation
combination of reverse osmosis, electrodeionization and ultrafiltration methods
THERMAL DISTILLATION
Thermal distillation, single or multi-effect, is the most popular method of Water For Injections (WFI) generation in Europe. The main advantage of this method is the reliability resulting from the design simplicity in which moving parts are not used in the process of WFI water generation. Due to the fact that the process is carried out at high temperature, this method gives complete confidence in the microbiological purity of the water obtained.
The source for WFI generation by thermal distillation is usually Purified Water. The feed water for the thermal distiller must meet at least the European Pharmacopoeia quality attributes for the PW. However, it is recommended that the feed water meets USP PW quality requirements. Feed water should contain the lowest possible concentration of non-condensable gases. The best quality of feed water will certainly extend the life of the distiller, as well as reduce the frequency of service associated with unit cleaning/derouging and/or repairing.
The process of thermal distillation is basing on evaporation and subsequent condensation of the feed water. The source of energy used to heat and evaporate the water in the process of thermal distillation can be technical steam under pressure of 4-8 bar or electric energy. In fact, electric distillers are used only for equipment of small capacity, usually not exceeding 200 L/h.
Thermal distiller for Water For Injections generation may consist of one or more, from 2 to 8, evaporation columns. The number of distillation columns also determines the number of distillation effects (therefor, the term "multi-effect distillation"). The increase in the number of columns leads to decrease of utilities consumption, and consequently, the operating costs of the unit decrease, while the investment costs increase. Equipment of small capacity - up to 100 L/ h - are most often designed as single-effect units. The bigger the WFI capacity of the unit is, the number of distillation effects is usually higher.